spermidineLIFE® Spermidine-Rich Wheat Germ Extract Capsules
spermidineLIFE® is a dietary supplement rich in spermidine, an important trigger for cellular autophagy (cell renewal). Introducing spermidineLIFE® capsules into your patient's daily diet can produce many of the same benefits as intermittent fasting.
spermidineLIFE® is a 100% safe dietary supplement and contains ingredients that are vegetarian.
spermidineLIFE® has been recognized in the EU (EFSA) as a Novel Food due to its unique and innovative character.
- Autophagy without fasting.
- Immune system support through reduction of inflammation and increasing immunological memory.
- Healthy weight support through fat oxidation and reduction of white adipose tissues.
- Support healthy brain aging and offset neurodegenerative disease such as Parkinson's, Alzheimer's, Dementia, and ALS through the removal of toxic proteins through the stimulation of autophagy.
- Preventative effect on age-related cardiovascular disease through increasing cellular respiration and increasing mitochondrial content in heart cells and the reduction of inflammation.
- Increases liver protection by strengthening the NRF2 signal transduction via the MAPS1S-translated non-canonical mechanism.
- Increase bone density through the enhancement of stem cell production.
- Reduces age-dependent muscular atrophy through promotion of autophagy.
- Enhances hair growth by extending the follicle anagen phase and increasing keratin production.
- Increase life expectancy through spermidine-rich diet and promotion of autophagy.
Ingredients: Spermidine-rich Wheat Germ Extract, Zinc Gluconate, Vitamin B1 (Thiamine Hydrochloride), Coating Material: E464, E1420, E904, E553b, E422
| | | |
| --- | --- | --- |
| Per Daily Dose | Amount | % NRV* |
| | | |
| | | |
| | | |
| | | |
spermidineLIFE® capsules are vegetarian.
Contains wheat and gluten. spermidineLIFE® contains around 1,700 mg of gluten per 1kg of spermidineLIFE extract, or about 1.36mg of gluten per recommended daily dose. Please determine if spermidineLIFE® fits within your patients' gluten-sensitive diet.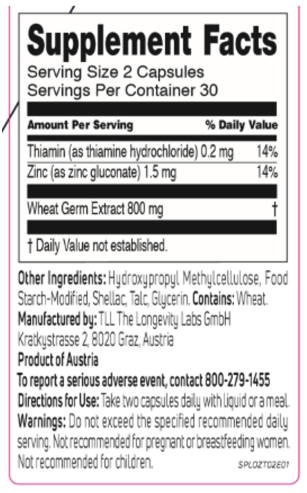 Recommended Dosage: (2) 400mg capsules daily with liquid or a meal. Do not recommend that patients exceed daily recommended dose without medical supervision.
Our dietary supplement, spermidineLIFE®, is not a substitute for balanced and varied diet and a healthy lifestyle.
Batch Testing and Microbiology
As spermidineLIFE® is extracted from natural wheat germ, variation in microbiology may occur. Accordingly, Longevity Labs conducts routine batch testing to ensure that rigorous microbiology standards are met for each batch. See below for safe batch test report and polyamine content analysis.